How TRID helps you know before you owe
In an effort to create easy-to-understand, fee-related mortgage disclosures, the Consumer Financial Protection Bureau (CFPB) has implemented TRID, or Know Before You Owe (KBYO) for all mortgage loan applications.
The acronym stands for TILA-RESPA Integrated Disclosures (TRID). TRID, or KBYO, replaces and combines the Truth-in-Lending, Good Faith Estimate and Settlement Statement (you might also know it as the HUD-1) into two separate disclosures — the Loan Estimate and Closing Disclosure.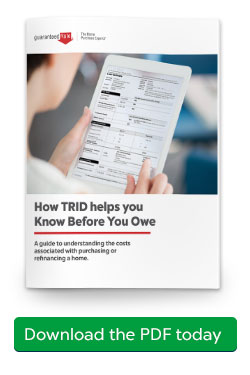 Our new, consumer-friendly guide will clearly define the latest industry regulation (TRID & KBYO), how it impacts your home purchase or refinance and then walk you through the improved fee-related mortgage disclosures.
The new Loan Estimate and Closing Disclosure will help you:
• Better understand what you're paying for.
• Shop lenders, should you choose to do so.
• Understand what is due at closing with enough time to consider your options.
The CFPB found that the new disclosures have helped consumers more easily locate their rate, monthly payment and loan program (i.e., Fixed or ARM).
For more information about what you should Know Before You Owe, contact your chosen mortgage professional.
Visit Guaranteed Rate often for mortgage-related topics that matter.
Continue Your Guaranteed Rate Education
Down Payment. How Much is Enough?
Home Owner's Insurance Coverage Options
FHA Mortgage Insurance Reduction