5 keys to painless decorating tips for couples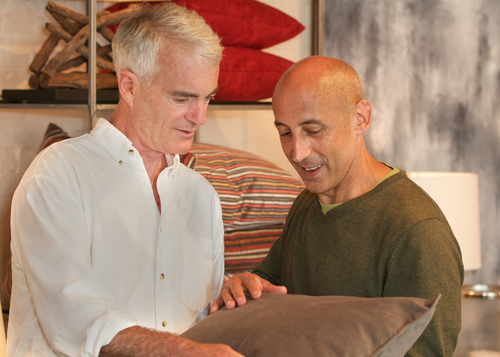 So you envision bold colors everywhere but your significant other wants clean, simple, geometric and neutral. How can you bring these opposite styles of home decorating together?
One of you might have to give up the hot pink couch and the other might have to say goodbye to the black leather recliner with the built-in fridge. But there's always a middle ground. Let's take a look at 5 ways you can compromise when it comes to home décor.
Design Preferences
Decide on the look and feel you each prefer and meet somewhere in the middle. Let's say your S.O. likes funny and wild and you prefer conservative frilly. A great mix of the two might be a deep red couch with straight lines in the upholstery. There are even ways you can add a little frill to this, so keep reading!
Color Palette
A compromise with color doesn't mean different variations of grey. While you can agree on neutral colors you can also accent with blues, greens and browns along with a mixture of softer shades. Once you nail down your colors, stick with them. Staying the course with what you initially agreed to will help you avoid any alterations to the plan down the road. Tastes do change, however, so keep in mind that paint color is among the easiest things to change in your home.
Furniture
I can appreciate that you or your S.O. might like the look of Victorian carved loveseats. But let's face it, that's not exactly the most comfortable or contemporary type of furniture. When deciding on chairs and couches, remember that there will be times when you'll both want to stretch out on them and get comfy, so choose something that works for both of you. If you can't come to an agreement on tables, hit some thrift stores. You might find that diamond in the rough that, with a little elbow grease, you can turn into a unique piece you can both appreciate because you put your personal touch on it.
Artwork
One of you likes golf landscapes and the other likes cow pictures. You'll need to meet in the middle here, wherever that is! Try visiting an art gallery to find some common ground in your tastes. Or just start shopping and see what you come up with. That's never a bad plan!
Accessories
If your S.O. won't let you put all of your precious figurines on display, try adding some splash with accent pieces such as throw pillows, table runners, candles and other items that can really punch up a room!
Powered by Froala Editor