Guaranteed Rate Wins Chicago's Coolest Company Award!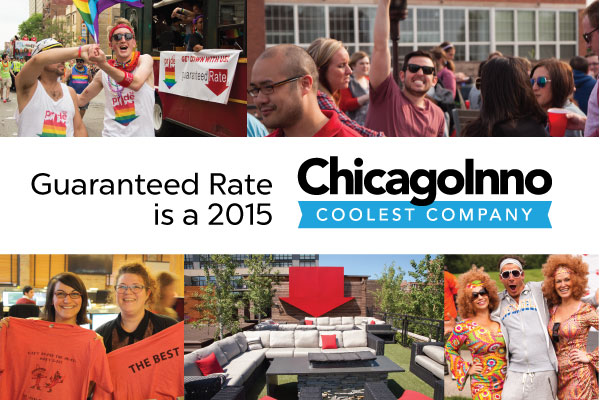 Last night, ChicagoInno celebrated Guaranteed Rate for racking up enough Reader's Choice votes to win the Coolest Companies in Chi-town award! Guaranteed Rate not only beat out hundreds of nominees, but other Chicago companies like GrubHub, Groupon and JellyVision.
"Guaranteed Rate is psyched to receive this award. We are the coolest company because we have the coolest employees on the planet," said Victor Ciardelli president and CEO of Guaranteed Rate. "Since our founding in 2000, we've grown to more than 2,700 employees today, and we are committed to building a fun workplace that rewards everyone for their hard work."
Guaranteed Rate's culture fosters a healthy, balanced, work hard, play hard environment – this balance is what makes us the coolest! Check out some of the many perks of working at Guaranteed Rate:
Monthly parties for not just major, but ANY holiday, including Canada Day, Cinco de Mayo, Cubs Opening Day…
A rooftop deck open all day and evening, with a bar and stunning views of the city.
Free monthly massages. Oh yeah we don't want you to be a cramped up mess.
An on-site gym for only $20/year. You can't get a better deal in Chicago than that.
Yoga classes on the roof and CrossFit classes led by a personal trainer for a small fee.
Afternoon snack craving? Don't worry, we have a juice bar.
An on-site chef to cook healthy meals.
An on-site nurse that employees can see for FREE. Who needs a doctor's appointment?
Guaranteed Rate's many awards speak to the amazing company culture, great employees and industry accomplishments.
Many Guaranteed Rate employees attended the awards ceremony Thursday, August 6 at Chicago Fest in Lincoln Park Zoo and enjoyed food, drinks and live music. Check out the recap video of the event, with an appearance by social media manager Carly Ramirez!
Thanks to ChicagoInno for the honor and a very cool experience!