Guaranteed Rate provides employees with Thanksgiving turkey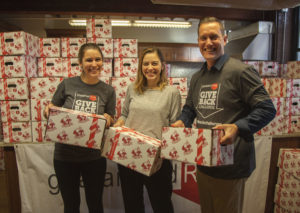 Thanksgiving is just a week away and Guaranteed Rate employees are now that much more prepared for the holiday.
For the eighth straight year, every employee had the option to receive a complimentary turkey as a token of the company's appreciation. This year, approximately 28,000 pounds of turkey were distributed.
"It's become a company tradition over the years and it's about expressing my gratitude to everyone at Guaranteed Rate," said CEO and Founder Victor Ciardelli. "I'm so proud of the culture we've created and it starts with how many talented and passionate people work here. This is one small way for me to say thank you."
It's that kind of approach that has served Ciardelli well. Guaranteed Rate was recently named among the top workplaces in Chicago by Chicago Tribune, ranking sixth overall in the large employer category and appearing on the list for the fifth time in six years.
In conjunction with the holidays, Guaranteed Rate is also hosting a company-wide food drive competition now through November 30. In 2014, the first year of the food drive, employees donated over 20,000 pounds in food and personal care items. Last year, that number spiked to 46,000 pounds. The total for this year is on place to surpass 50,000 pounds.